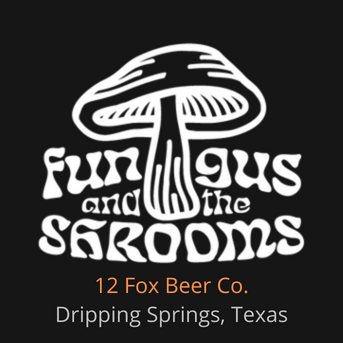 September 23rd, 2023 - 5:00pm - 8:00pm
About The Shrooms

---
Fun Gus & The Shrooms is an Austin area based four piece band that performs a diverse mix of genres from 70's classic rock to modern alternative rock. All members are originally from Corpus Christi, TX, born in the same year, and graduated high school in Corpus Christi in the same year. Coincidence or fate? The Shrooms now sprout in Central Texas! Their live performances are uniquely fun, energetic and always get the crowd singing along!

Members: Gary Faires - Vocals, Guitar, Bass Rudy Villarreal - Vocals, Guitar, Bass Jason Salinas - Guitar(s)Mike Quinones - Drums/Percussion
Come for the beer, stay for the music!
We've got 8 beers on tap plus guest taps featuring wine, cider, & mixed drinks!

All ages are welcome, and admission is FREE! We've got over 100 picnic tables distributed around our biergarten and family friendly play area. No reservation required. Well behaved pooches' welcome.
Live Music on Thursday, Friday, Saturday & Sunday!
*OPEN Thursday 3-9pm *Happy Hour (3-6pm) | Friday & Saturday 12-9pm | Sunday 12-8pm