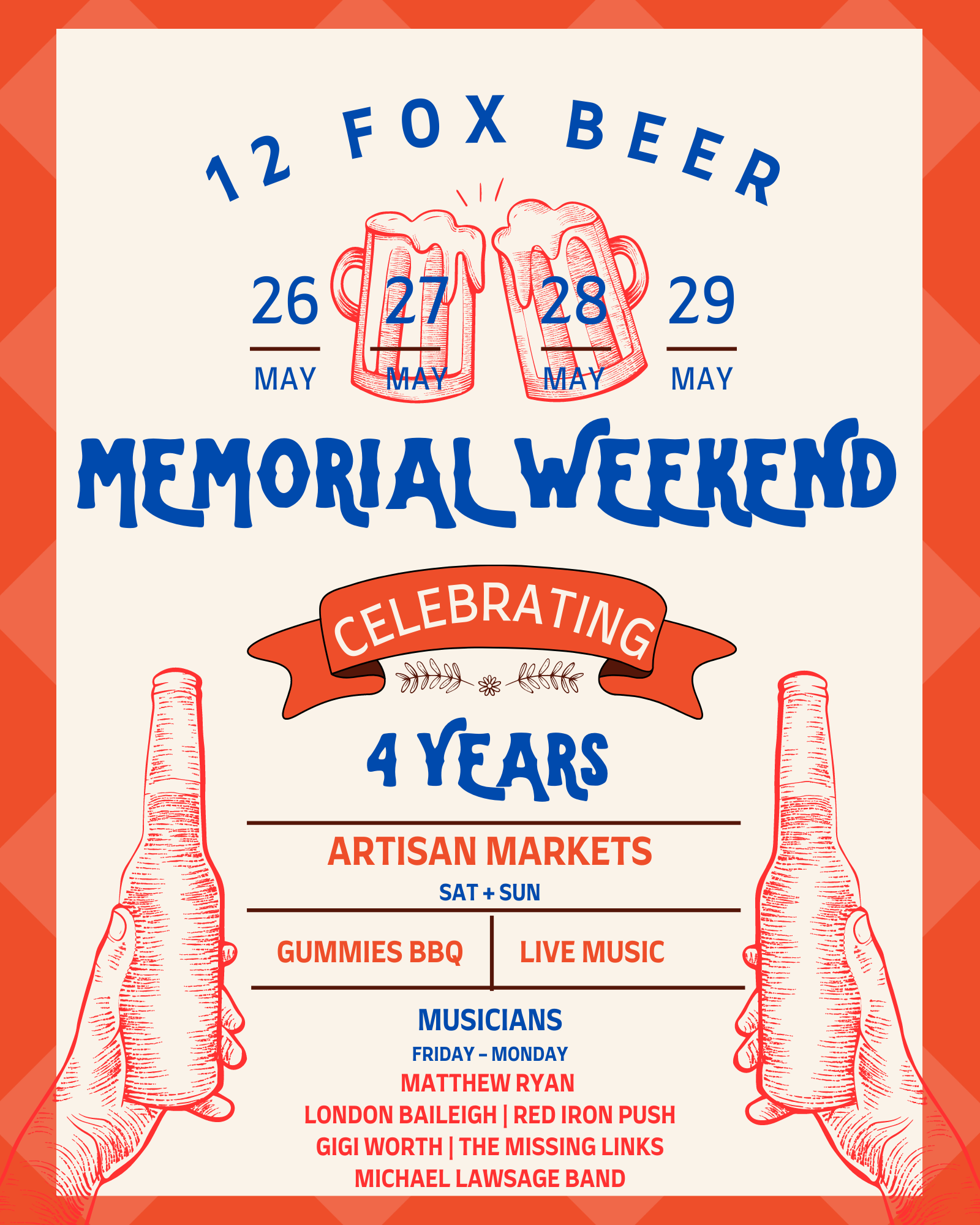 May 27th, 2023 - 12:00PM - 9:00PM
We CANNOT believe it's already been 4 years since we opened our tiny little taproom with the mission to create a community focused version of a Hill Country CHEERS. To say that we are grateful for your love and support through these years is simply an understatement. So many of our patrons have become friends with us and friends with each other. We've watched relationships turn into marriages and newlyweds turn into families. We've been able to experience families growing and their babies turn into happy little ones crawling all over the playscape. The JOY that comes from seeing our community members walk up the path to our taproom and exchange hugs is something we cherish and being a part of this special loving community has allowed us to discover the true meaning behind the making of a 12 FOX FAMILY. We hope that you are able to join us over Memorial Day Weekend to not only remember those that gave the ultimate sacrifice so we can have the FREEDOM to live a life of entrepreneurship, but to also CELEBRATE our little breweries growth with live music (Friday - Monday) Specialty Dishes + TX BBQ by Gummies BBQ, Specialty Drinks - Frozen Adult Drinks + a great beer line up to include our Special Release - ANNIVERSARY BIER.
GUMMIES MEMORIAL DAY WEEKEND BBQ ALL WEEKEND SPECIAL MENU ITEMS Thursday - Smoked Pork Chops Friday - Steak Night SATURDAY - Shrimp + Blue Crabs SUNDAY - Family style meatloafMONDAY (Memorial Day Picnic) smoked burger menu - huge hotdogs - smoked wings with Kurt's Alabama White Crack Sauce...
KURT with Gummies BBQ will be giving a Memorial Day Meal to all of our Monday Night Fireside Chats members in memory of and to honor their friends and family that gave the ultimate sacrifice. We've been honored to host and heal with this group of men and women over the past 2 months and cannot express how grateful we are to Kurt and our Community for their continued support. Without him and all of those that contribute, these evenings wouldn't be as productive as they are. Together we are STRONG...
LIVE MUSIC ALL WEEKEND
ARTISAN MARKET (SATURDAY + SUNDAY)
GUMMIES BBQ + DAILY SPECIALTY PLATES
SPECIAL RELEASE - ANNIVERSARY BEER