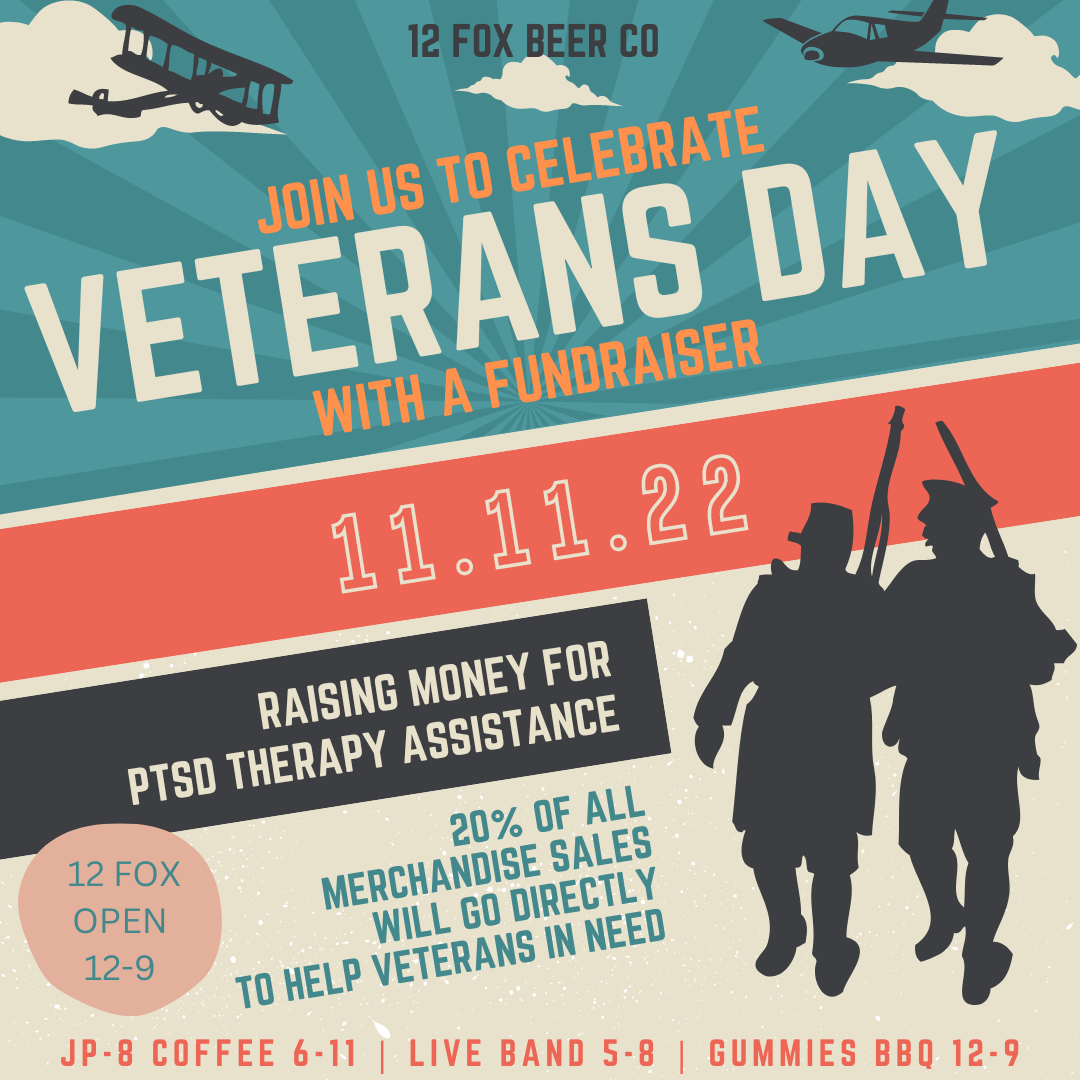 November 11th, 2022 - 12:00pm - 9:00pm
We have back to back fundraisers this Veteran's Day Friday + Saturday.

Join us for Veterans Day on Friday to raise money for local Veteran PTSD Therapy sessions.

We will have great beer all day. Remember Veterans get the 1st beer free.
@gummies_bbq will be open with their amazing TEXAS BBQ from 12-9

Start off the day with buying coffee from a Veteran at @jp8coffee they team up with Gummies to serve breakfast in the biergarten Monday - Friday 7-11am and Saturday 8-11.

@joshfieldmusic will have his band out from 5-8pm to entertain our Veterans and Veteran Supporters.
Saturday will be an all day event 12-9pm. Maui Brewing will be taking over our 2nd taproom with all of their beers and seltzers in a collaborative effort to raise money for US13 - ᴘᴀᴛʀɪᴏᴛɪᴄ ᴏʀɢᴀɴɪᴢᴀᴛɪᴏɴ honoring 𝟷𝟹 ʜᴇʀᴏ's ᴋɪʟʟᴇᴅ ɪɴ ᴋᴀʙᴜʟ. ᴘʀᴏᴜᴅʟʏ ᴘᴀʀᴛɴᴇʀᴇᴅ ᴡɪᴛʜ ᴊᴏʜɴ ᴅᴀʟʏ-ᴍᴀᴊᴏʀ ᴇᴅ ʜᴇᴀʀᴛ ᴏғ ᴀ ʟɪᴏɴ ғᴏᴜɴᴅᴀᴛɪᴏɴ
We will have live music from 12-9pm and Veteran Owned Small Business tents selling their items.
We look forward to celebrating those who served with you